Service - Residential
The trouble with electronic security and home automation equipment is that most of us only remember the processes we use day to day, like how to arm and dis-arm the alarm system but forget the lesser used processes, like how to change user codes or test the system.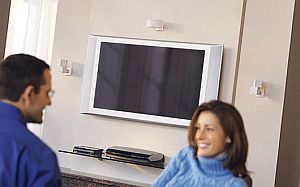 So everything works well until there is a fault in the system, you can't remember what that flashing light means. And so the problem develops.

Some of the more common service faults are:
Insects infesting the equipment, especially movement sensors,
Relocating things in a room to obscure a movement sensors vision,
Dust or cobwebs on movement sensors or cameras
Low battery in key fob remotes and sensors
Faulty battery in the control panels
Faulty telephone line or poor line quality
Hard Drive failures or System programming corruption
These problems result in your electronic Security or Automation system not performing correctly and therefore protection of your home and family maybe at risk.

There are numerous issues that can affect your system's performance and most are detected by us through Monitoring Centre reports. But if you do not regularly test your system then the best way to be assured it is working most effectively is to call Magnitude Security. We will visit your home, perform an audit and maintain the system on a regular basis without any fuss, to give you and your family Peace of Mind.
Contact us now or book online and we'll arrange a comprehensive inspection of your system with a full report